Skip to Content
Quick Windshield Wiper Replacement in Edmonton & Leduc
Auto Glass Solutions' Windshield Wiper Replacement Guide
Windshield wipers are among the most neglected safety components on vehicles. Auto Glass Solutions always stresses to our customers the critical importance of getting routine windshield wiper replacements. Here, we offer a windshield wiper replacement guide specifically designed to answer questions for car owners. If you have any questions about the safety of your windshield or windshield wipers, let our team of experts help.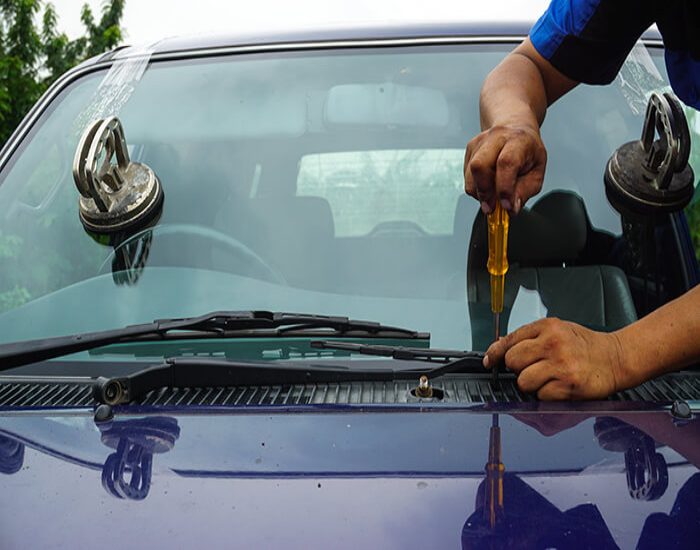 Pro Tips for Maintaining Your Windshield Wipers
We will cover specific information about windshield wiper replacement, but first, we wanted to give you some quick tips. Here are a few of Auto Glass Solutions' most important tips you can use to protect yourself and your windshield wipers:
Get routine inspections from a professional
Regularly examine your wiper blades for cracks marks and other signs of wear and tear
Replace your windshield wipers before they start to streak or otherwise malfunction
Use a scraper to remove snow and ice from your windshield, not your windshield wipers.
Replacing Wiper Blades During a Windshield Repair
Auto Glass Solutions is known as a leader in the field of windshield repairs for cracked, chipped, and dinged windshields. Our expert technicians can also perform quick and affordable windshield wiper replacements. Since professionals recommend getting new wiper blades each year, it is typically wise to get windshield wipers replaced while you are getting a damaged windshield fixed. One of the most prominent reasons people put off replacing their windshield wipers is that they are too busy to take their vehicle into a shop. So, it is best to get everything done at once.
Finding High-Quality Windshield Wiper Replacement Parts
When getting a windshield wiper replacement, nothing is more important than the quality of the blades. While all blades look similar, there is a wide range in quality. High-quality blades do cost a little more, but the increased lifespan and safety are well worth it. In fact, one of the most apparent indicators of a quality blade is the price. More expensive blades are not always better, but cheap windshield wiper replacement parts are always worse. We do not find blades of high quality that are cheaper than CA$15. Ultimately, the best way to find the right blades for your vehicle is to consult the professionals at Auto Glass Solutions.
What Price You Can Expect for a Windshield Wiper Replacement
While many things can affect the price of your new windshield wipers, Auto Glass Solutions has noticed two main factors that influence the cost of windshield wiper replacement parts. As mentioned above, the quality of blades will significantly affect the price. However, the main factor is where you purchase your new blades. Auto part stores and dealerships have a habit of ratcheting up the price of blades based merely on the name brand. Service providers like us can often provide parts at a more reasonable price. In general, quality windshield wipers will cost somewhere in the $15 to $30 range, but that can always change depending on the blade size and type of vehicle.
How to Know When You Need to Replace Your Wiper Blades
While Auto Glass Solutions suggests car owners routinely get windshield wiper replacement, there are a few signs that your blades are getting old. Anytime you need windshield repairs, it is also a good idea to preemptively replace your wiper blades. Additionally, the following signs indicate that you need to replace your blades urgently:
Corroded metal or rust
Rubber that is splitting, cracking, or detaching from the blade
If your wiper blades streak, skip, squeak, or split while in use
How Often Should I Replace My Windshield Wipers?
Generally, we recommend professional inspections and windshield wiper replacements about every year, if not more often. The ideal time to replace windshield wipers is always before they go bad, not afterward. So, you certainly should replace windshield wipers when you notice rust, cracked rubber, or streaking. Ideally, though, you should replace wipers before these problems arise. Driving with damaged blades can quickly become dangerous, especially in the harsh snow we see. A small problem can become a serious hazard very suddenly.
The Dangers of Neglecting Old or Damaged Windshield Wipers
When you fail to get windshield wipers replaced regularly, it is dangerous for you and other drivers. Damaged blades can get worse in an instant. So, a simple streaking blade can turn into an obstructed view in the middle of a long, snowy drive. Replacing old windshield blades is one of the most affordable auto repairs and increases the safety of your car more than most drivers consider.
Get a Free Quote for Your New Windshield Wipers
Whether you need a windshield wiper replacement or a windshield repair, Auto Glass Solutions is here to serve you. Our team of expert technicians has a reputation for quick and affordable repairs that leave our customers' vehicles safe for any type of travel. If your windshield wipers show signs of wear and tear, contact our team to get your free quote today.