Skip to Content
Windshield Rock Chip Repairs & Crack Repairs
Windshield Repair in Edmonton & Leduc
Having provided Edmonton, AB residents with high-quality windshield repair for more than three decades, Auto Glass Solutions knows how common it is for rocks or small debris to cause damage to your windshield. We understand you can't plan for these types of situations, and while it may seem like a minor cosmetic issue, it can be dangerous to you and others. Even the smallest flaws in your vehicle's glass can compromise the structural integrity of your windshield. These seemingly insignificant imperfections can quickly lead to further cracking and damage to your windshield, offering less protection to you and your passengers. Repairing your windshield's glass after experiencing any damage is vital to your safety. At Auto Glass Solutions, our goal is to save you the time and cost of a full windshield replacement by repairing your chips and cracks while they're still minor. Our expert windshield services are quick, efficient, and will have you back on the road as soon as possible.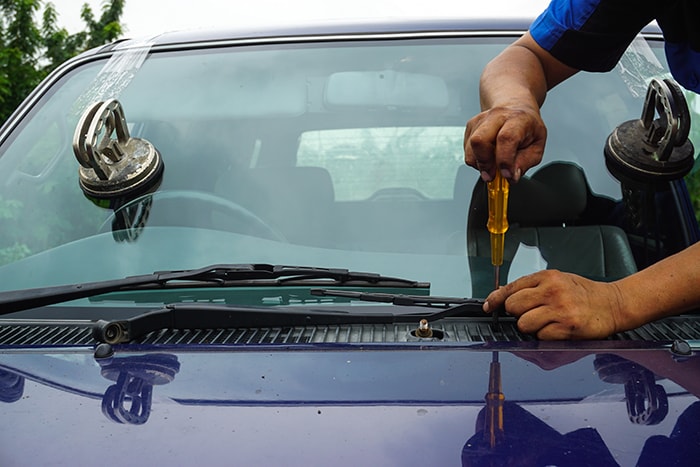 The Hazards Of Having A Crack In Your Windshield
Impaired vision and increased blind spots due to impurities in your vehicle's windshield
Rocks and debris that hit your vehicle's windshield and cause further damage to the already-existing cracks or chips
Existing cracks in your vehicle's windshield that are likely to grow due to the glass contracting and expanding during temperature fluctuations
Further weakening the integrity of your windshield by hitting potholes or driving too quickly over a speed bump
A lack of structural support from your damaged windshield that could cause the roof of your vehicle to cave in a roll-over accident
Being ejected through your vehicle's weakened windshield during a high-impact collision
The force of an airbag shattering an already damaged windshield, causing the airbag to deploy through the broken glass rather than towards the passenger.
Don't put yourself at risk! All of these scenarios can be avoided when you rely on Auto Glass Solutions to perform speedy windshield repairs. With quick action as soon as you notice any cracks or chips in your vehicle's glass, you will improve your odds of only having to pay for repairs instead of a whole new windshield.
Call Us Today For a Free Quote!