Skip to Content
Windshield Care in Edmonton & Leduc, AB
Auto Glass and Windshield Care Services
The clarity of your auto glass plays a vital role in the safety and efficiency of your vehicle. As such, minor disruptions – such as cracks or chips – must be addressed promptly and your auto glass must be well-maintained to prevent visual impairment and hazards. That's why Auto Glass Solutions provides trusted auto glass and windshield care in Edmonton and Leduc, AB.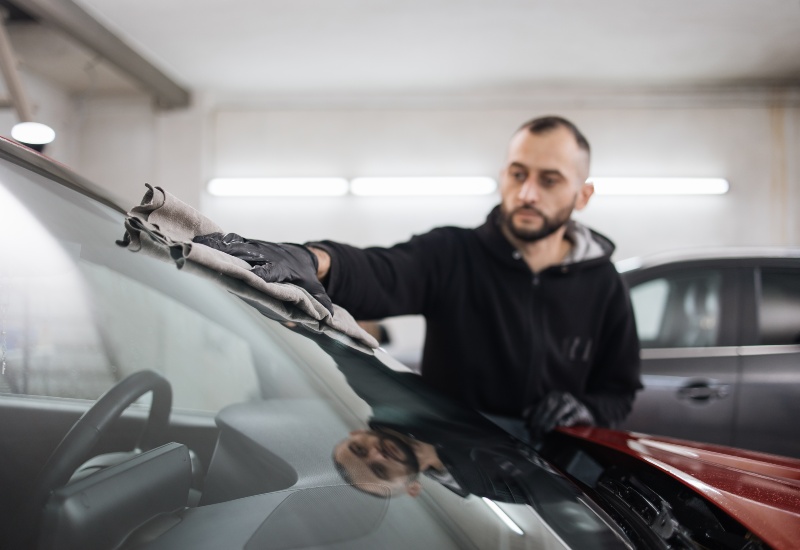 Facts About Glass Cleaners
Keeping your auto glass and windshield looking and performing their best is possible when you are equipped with the right tools and techniques. While water is safe, it's not enough to thoroughly clean auto glass unless it is paired with a microfiber towel to gently eliminate stuck-on contaminants.
Auto Glass Cleaning Tips
These tips can help you keep your auto glass clean:
When washing your vehicle, clean your auto glass last
Do not work in the sun as it evaporates the cleaner, leaving behind residue
Thoroughly clean your windshield working in an up-and-down and side-to-side motion and drying it immediately after
Roll your windows halfway to clean the top edges
Avoid Ammonia Cleaners
The majority of glass cleaners contain ammonia, which may be beneficial for cutting grease but offers several disadvantages in terms of vehicles, including:
Ammonia releases hazardous fumes that should not be inhaled
Ammonia can dry out materials inside your vehicle, such as plastic, vinyl, leather, and rubber
Ammonia cannot be used on tinted windows
How Often Should You Care for Your Glass?
The frequency in which you should care for your vehicle's auto glass and windshield will depend on your specific needs. We recommend cleaning your auto glass on an as-needed basis, ensuring you always have optimal visibility on the road to prevent dangerous situations.
Interior Glass Care
Use three microfiber towels: one to apply the cleaner, the second to buff the residue away, and the third to ensure a streak-free finish. Remember to roll the windows down halfway to get the edges of the windows and do not apply too much cleaner as you will be left with buildup.
Exterior Glass Care
Cleaning your exterior glass should come at the end of your car wash once every other portion of the vehicle has been cleaned to avoid recontamination. For basic cleaning, follow the same method as interior glass cleaning. For a more thorough clean, you may use a clay bar to eliminate contaminants within the micro-pores of the glass.
Windshield Wiper Care
Windshield wiper care is essential when it comes to maintaining your auto glass. The rubber on your wipers can deteriorate and dry out if not properly cared for, leading to an ill-fitted form that doesn't hug your windshield. When you regularly clean them with ammonia-free cleaner, they will not dry out and will continue to perform reliably, reducing the need for replacements.
Choose Auto Glass Solutions
When you need trusted auto glass and windshield care services, you need Auto Glass Solutions. As the name implies, we have solutions for all of your vehicle's auto glass needs, ensuring optimal care and personalized solutions that keep your glass looking and performing its best. Rely on us for prompt appointments, cost-effective pricing, and guaranteed work.
Rely on Our Trusted Auto Glass Specialists
When your auto glass requires professional intervention, Auto Glass Solutions is your trusted destination for premier service at affordable prices. Our experts provide industry-leading auto glass repairs, maintenance, and installations that enhance your vehicle's driving experience, ensuring our community has access to the highest quality auto glass services available.
Schedule Your Auto Glass or Windshield Care Services Today
Whether you've discovered a crack in your windshield or an inefficiency in your auto glass, the professionals at Auto Glass Solutions are here to remedy your concerns with trusted auto glass and windshield care services in Edmonton and Leduc, AB. Contact our friendly team today to schedule your trusted service.